FAMILY CANYONING GARDA LAKE, Ledro VALLEY, TRENTINO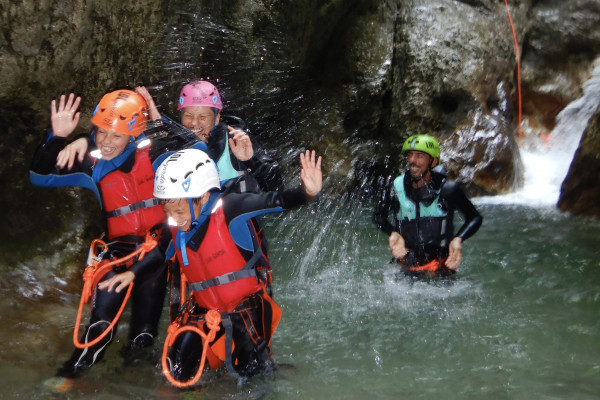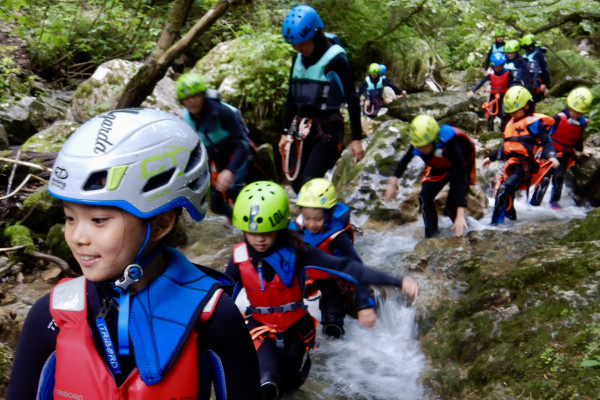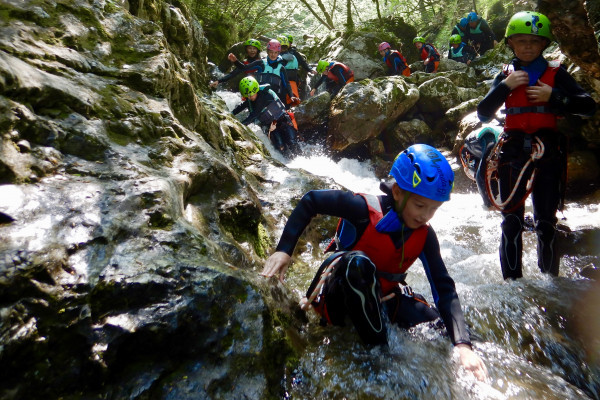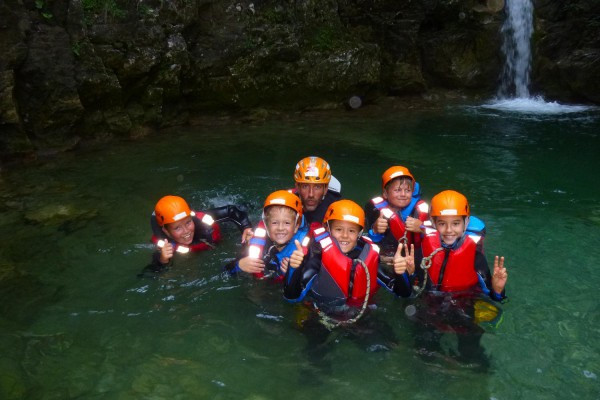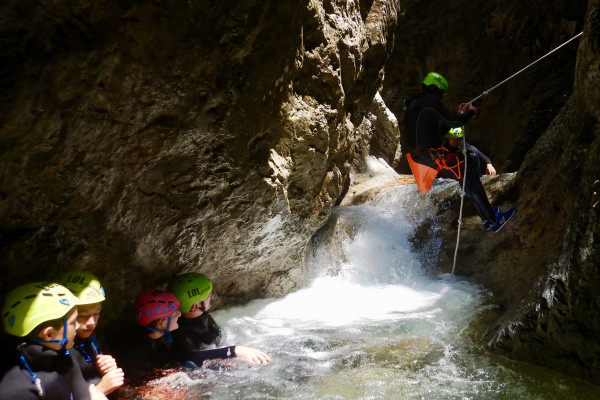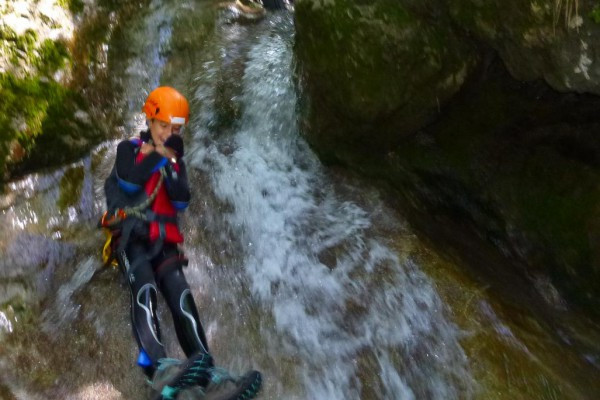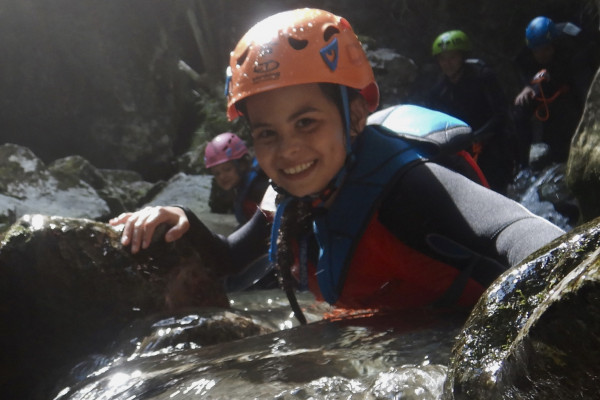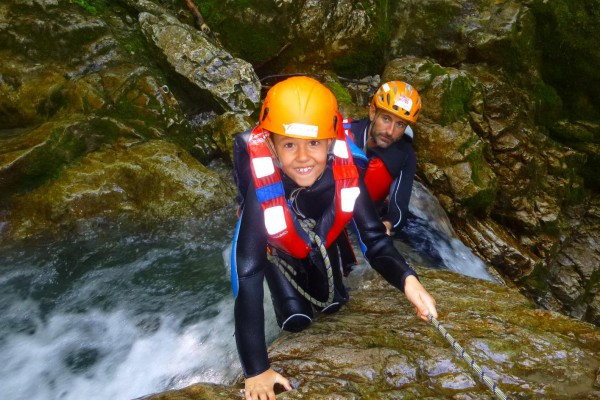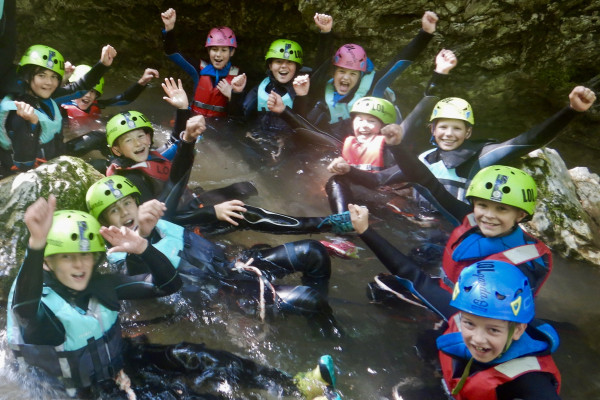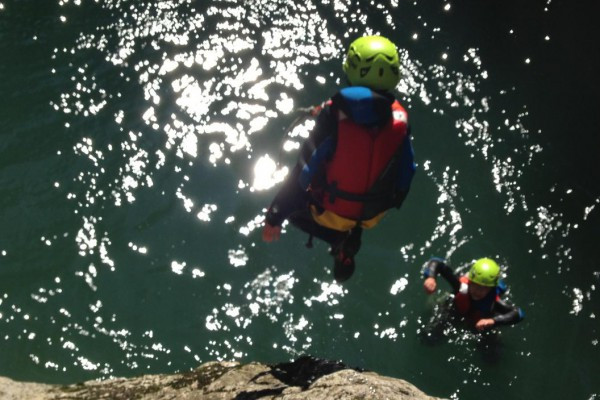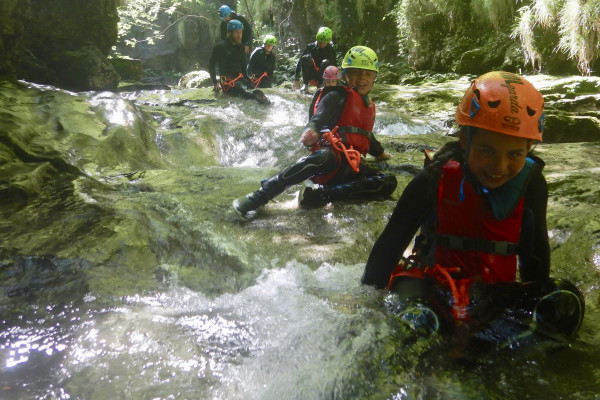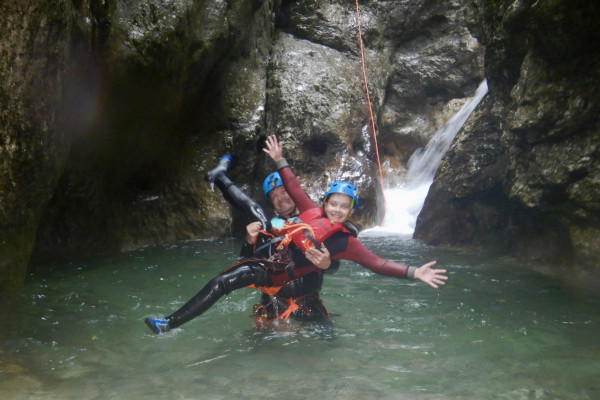 Are you on holiday with your family? Would you like to relax while your kids are seeking for an exciting adventure? This is the activity you are looking for, completely safe and funny!
Family adventure
Canyoning for children
Unforgettable memories
| | |
| --- | --- |
| Included | Mountain guide and certified canyoning guide, 5mm neoprene suit and socks, life vest, helmet, harness. Parking place |
| Not included | Transfer to the canyoning center (we can provide transfer from Riva del Garda to the activity place, just let us know IT IS FOR FREE)If you book it we make pictures during the tour, and you will not be on the photos if you don't wan't it;sometimes after the canyon if the whole group agree we stop for a coffee or beer, that is not included; |
| Duration | 3 Hours |
| Bring along | Swimsuit, sneakers or hiking shoes to wet, towel |
| Participants | From 2 to 10 participants |
| Languages | French, English, Italian, Spanish, German, Dutch |
| Requirements | Proper relationship height-weight, good physical conditions, underwater-friendly, no dizziness |
| Important information | Canyoning is an activity that most of the time you are in the water, descending natural courses with all it beauty and danger.During the path there are slides, also known as toboga, waterfalls from where the guide will abseil you, cliffs from where you jump or not, small lakes, and routes where we walk where it is slippery and disconnected;If you do Canyoning wrong it is more risky than it already is;There are many risks and they canned also really bad such as: hypothermia, injuries, drowning etc..LOLgarda will give you all the information and give you the whole technical equipment such as:neoprene suite, canyoning harness, helmet, life jacket, and neoprene socks, not shoes; in case you are on holiday just with sandals let us know;You will be accompanied by a Mountain Guide with Canyoning specialisation.THE GUIDEhis decisions can't be discussedit's the only person allowed to take decisions for the entire grouphe will abseil youhe wil tell you how and where to jumphe will give you the right information to do this activity in a safe wayin case that one or more members of the group taking part to the activity don't wan't to listen or to do what the guide says, the guide can decide to let stop the whole group or just them, cause it is to risky for everybody-reserves the right to postpone or cancel the activity due to bad weather conditions or lower number of participants.once the activity is started there will not be the possibility to go backwards, the only way is to finish the canyon and sometimes there are some emergency exitsthere is always the possibility that the guide decides to move the tour for safety reasons ( for the bad weather conditions, cause the members don't listen or are under alcohol or drugs effects)If the customer does not show up or does not take part to the activity there will be no refundsBefore starting the activity there will be a briefing, where we will ask if you have any problems (panic attacks, some physical problems, diabetes or other things), this will let you still take part of the group but it is important to know so that we can react in the right way in case something happens.Canyoning is an activity that everybody can do with good physical conditions and has a good confidence with water; |
Venue
When you drive from Riva del Garda our centre will be at your right side 100m before the street that brings you to Tremalzo, if you come from Tremalzo than it is 100m after at your left side. If you need transfer please contact us to arrange it
Canyoning & Outdoor Centre LOLgarda
Via Ampola, 3, 38067 Ledro TN, Italia
at our Canyon & Outdoor centre you can park for free
Bus stop Lago d'Ampola
Offered by
LOLgarda by LiveOutdoorLife
38067 - Trentino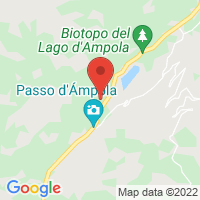 Further information
There are plenty of easy canyons suitable for families which offer a unique touch of nature. Come with LOLgarda and spend a lovable time with your faimily among natural slides, jumps and vertical descends, your kids will experience great adventure while you will be glad of watching them discovering nature and have fun with it. This Canyon is also great fore whom that wish to do canyon but are afraid because they don't know what it is exactly so they wish a gentle start. We will walk, we will slide, JUMP ONLY IF YOU WISH, the guide will absail you with the rope where there are waterfalls. It is beautiful activity in a wonderful place.You will just run the risk of having lot's of fun!
In the description yu will find that it takes 4h, including the time we take to let you sign the documents, give and wear the technical equipment and so on, in the water we will be approximatly 2 or 3 hours, could be more or less it is different with every group and we can't know it in advance;
10 Reviews
| | |
| --- | --- |
| Overall rating | |
| Value | |
| Fun factor | |
Entusiasmo e meraviglia!
Esperienza davvero fantastica. Io l'ho fatta insieme ai miei figli di 8 e 10 anni! Quando abbiamo finito l'esperienza ci siamo detti "Meglio di Gardaland". Trovo che al di là del divertimento, sia istruttivo al massimo e queste cose che si fanno all'aria aperta toccando con mano gli elementi naturali ci ricordano il rispetto che dobbiamo portare alla nostra terra. Guide alpine SUPER in tutto, gentili, approccio con i bambini fantastico, ma anche con gli adulti. Spiegazioni chiare e massima sicurezza.
by Federica Donà on 09/12/2021
Grazie mille Federica alla prossima stagione per una nuova avventura
Meraviglioso
Istruttori simpatici e pazienti..posti meravigliosi dal giardino della preparazione al bosco al fiume.. il top!giusto anche il prezzo.divertentissimo! Bambini di 8 e 10 anni estasiati
by Serena Faiano on 08/16/2021
grazie sandra per le fantastiche parole ci riempiono di gioia alla prossima :-)
Canyoningen met zeer matige gids
De organisatie was niet erg enthousiast en de gidsen waren slecht in de communicatie waardoor je geen idee had wat je te wachten stond, wat je precies ging doen, hier lang het zou duren. Erg jammer en voor mij niet voor herhaling vatbaar.
by Jean Paul Ten Klooster on 08/14/2021
oh wat jammer dat het zo bij u gegaan is bedankt voor deze informatie ik ga persoonlijk met u contact nemen zo dat u mij exact kunt vertellen wat er gebeurd is en dat ik het personeel kan verbeteren mvg
More offers from this partner